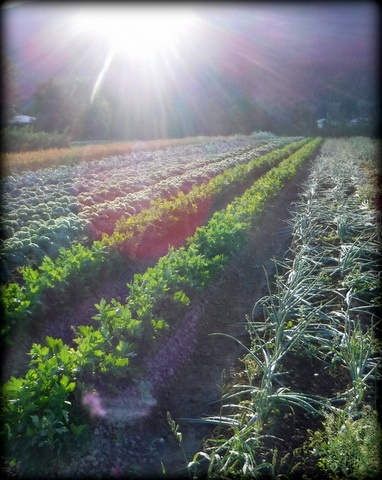 Recipes, vegetable preparation tips, farm news, farmers market info, bulk price list and more...
Sent out 2 days prior to each market.

Growing, eating and writing about food are some of our favorite things! We especially like discovering delicious and unique recipes that incorporate farm-grown veggies, and taking 'foodie' trends and making them Wild Flight applicable.

Click here to subscribe and receive the e-news directly to your inbox!
Each issue contains a 'Manage Your Subscription' link at the bottom, enabling you to easily change your e-mail or unsubscribe at any time.
Have a look at some of our recent newsletters:
March 18th Peel Back the Layers of the Unassuming Onion
March 4th Peculiar Parsnips
February 18th Shoots: the Small but Mighty Green
February 4th The Root that Can't be Beat
January 21st Exploring the Big Apple(s)
January 7th Winter Cabbage, More Bang for Your Seasonal Buck
December 17th Circle around the table, Enjoy Seasonal Splendor
December 3rd Celeriac: Don't judge a vegetable its Exterior
November 19th Mining our Greenhouses for Claytonia
November 5th Kale: A Celebrity Vegetable
October 29th Carrots, Sweet as Halloween Candy!
October 22nd Acorn-U-Copia of Fall Flavour!
October 15th Ward off Halloween Monsters, Eat Your Garlic!
October 8th Delicate Hardiness, Tatsoi & Arugula!
October 1st PUMPKIN - Jack of all Trades
September 24th Eggplant, Vegetable of Mystery
September 17th Put Some Pep in Your Step!
September 10th Back to Routine, Vegetables are the Regime
September 3rd We've Sprung a few Leeks!
August 27th It's Bean So Long...Since We've Seen a Clear Sky
August 20th Walla Walla Bing Bang! Sweet Onion Time
August 13th Juicy Gems of the Garden, it's Tomatoes!
August 6th The Little Zealous Zucchini that Could
July 30th Broccoli, Now 43% Less Pretentious than Kale?
July 23rd The Old & New of Broad Beans
July 16th Arugula, A Rocket Blast of Flavour
July 9th Some Say Scallion, I Say Green Onion!
July 2nd Fennel - A Breath of Fresh Air
June 27th Blimey! Look at those English Cukes
June 20th Re-scape your plate with Garlic Scapes!
June 13th Delicate, Delicious, Dill
June 6th Kohlrabi: King of the Unconventional
Check out our Facebook page for more...