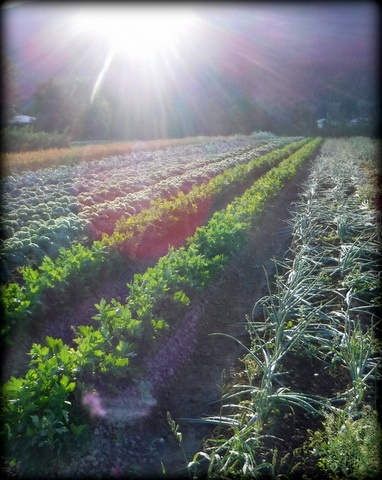 Recipes, vegetable preparation tips, farm news, farmers market info, bulk price list and more...
Sent out 2 days prior to each market.

Growing, eating and writing about food are some of our favourite things! We especially like discovering delicious and unique recipes that incorporate farm-grown veggies, and taking 'foodie' trends and making them Wild Flight applicable.

Click here to subscribe and receive the e-news directly to your inbox!
Each issue contains a 'Manage Your Subscription' link at the bottom, enabling you to easily change your e-mail or unsubscribe at any time.
Check out our recent newsletters below:
October 2nd:
Bulk Offerings For A Festive Feast
September 25th:
Cauliflower Returns
September 18th:
Zippy Greens & Harvest Help
September 11th:
Bountiful Broccoli
September 4th:
We've Got All Your Salsa Making Needs
August 28th:
The Season For Fresh Greens
August 21st:
Smoky Days & The Sweetest Corn
August 14th:
'Egg'cecllent Eggplant Recipes
August 7th:
Deals for Cherry Tomatoes & Long English Cukes
July 31st:
Fresh and Sweet Walla Walla Onions
July 24th:
Hailstorm Damage & More Fruit @ Market
July 17th:
The Summer Spud: Warba
July 10th:
Fresh Fruit @ This Week's Market
July 3rd:
Check Out the Changes to Our Online Ordering!
June 26th:
Earthy and Sweet Beets
June 19th:
Sugar Snaps? Yes Peas!
June 12th:
Fresh Strawberry Season
June 5th:
The Varied Ways of Kohlrabi
May 29th:
Sweet and Savoury Rhubarb
May 22nd:
Busy Days at the Farm
May 15th:
Lettuce Celebrate the Sunshine
May 8th:
It's Asparagus Season
May 1st:
With Sunshine, Comes Spring Mix
April 24th:
Weekly Markets are Back
April 10th:
The Perfect Garnish - Chives
March 27th:
Spring is Here
March 13th:
The Joys of Shallots
February 27th:
Plenty of Rutabaga
February 13th:
Support Local & Save
January 30th:
You Butter-not Miss Out on Squash
January16th:
Thanks for Supporting Organic Growing, All Year Round

January 2nd:
Healthy Habits for the New Year