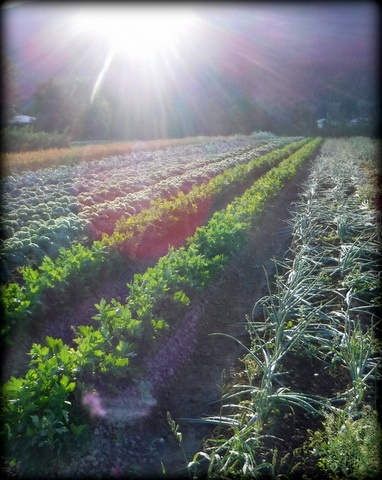 Recipes, vegetable preparation tips, farm news, farmers market info, bulk price list and more...
Sent out 2 days prior to each market.

Growing, eating and writing about food are some of our favorite things! We especially like discovering delicious and unique recipes that incorporate farm-grown veggies, and taking 'foodie' trends and making them Wild Flight applicable.

Click here to subscribe and receive the e-news directly to your inbox!
Each issue contains a 'Manage Your Subscription' link at the bottom, enabling you to easily change your e-mail or unsubscribe at any time.
Check out our recent newsletters below:
October 25th:
No Markets This Week!
October 18th:
Fall Planting & Cool Weather Crops
October 11th:
Winter Greens & Markets
October 4th:
Buy in Bulk for a Thanksgiving Feast
September 27th:
Fresh Fall Crops
September 20th:
Cauliflower & Arugala Return
September 13th:
Persistent Peppers
September 6th:
Last Call for Basil & Pickles!
August 30th:
Beets & Bulk Tomatoes!

August 23rd:
U-Pick Beds are Blooming
August 16th:
Corn Comin' in Hot!
August 9th:
Cherry Tomatoes Really Coming on!
August 2nd:
The Short and Sweet Season of Walla Wallas
July 28th:
You say Po-tay-to, I say Po-tah-to
July 21st:
Cauliflower Power
July 14th:
Cruciferous Queens: Broccoli and Broccolini
July 7th:
10 Things to Do with a Cucumber
June 30th:
MARKET TIME CHANGE JUNE 30 9-11AM
June 23rd:
Great e-Scapes
June 16th:
Cooking With Kohlrabi: For Newbies and Pros
June 9th:
Freezing Spinach: The Preservation Approach
June 2nd:
Radiant Rhubarb
May 26th:
Turning Heads With Our Salad Turnips
May 19th:
How to Make the Most of Asparagus Season
May 12th:
Our Top 4 Ways to Prepare Pak Choi
May 5th:
Not Just A-rugula Vegetable
April 28:
Gorgeous Green Garlic
April 14:
Greening Out!
March 31st:
Edible Easter Offerings
March 17th:
Winter Market MOVED to Centennial Park this Saturday
March 3rd:
Pick the Perfect Pear
February 17th: Apples: Why Organic Matters
February 3rd:
Onions: Worth Shedding a Tear Over
January 20th:
Prominent Parsnips
January 6th:
We're Rutabagging You To Try This Vegetable